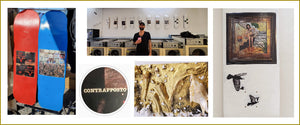 Ben Wannamaker
Ben Wannamaker – Contrapposto Magnetics
-
Ben is an artist and skateboarder in Toronto, Canada, and I found his extraordinary work online a few years ago on Instagram. I discovered his skate brand; Contrapposto Magnetics, was catering to local skaters who needed specific shapes and designs to ride. I was really impressed by this community approach Ben was taking with his company, and how his focus was on helping local skaters and contributing to the local skate scene in this positive way.
Ben's art and skateboard graphics are immediately visually striking and bold. He doesn't shy away from challenging societal and cultural themes such as suicide, political unrest, sacrifice, and self-inflicted destruction, yet he is able to strike a harmonious balance with his work also depicting scenes in nature and snapshots in time of positive events and memories from his lived experience.  His work elicits a sense of balance between the hard truths and realities of life, within a context of serene beauty. His ability to juxtapose forces of natural imagery with darker themes, brings to the surface a different perspective of beauty in the painful and sometimes self-destructive world we live in. 
__________________
Art on Deck Features Contrapposto Magnetics @ Summerfest Festival, Toronto 2022
When I met Ben, I asked if I could show off some of his work at one of our events in Toronto, and he eagerly agreed as it was great opportunity to display some of his amazing work. In 2022, we displayed a couple of his pieces at the Summerfest street festival on Eglinton Ave. West, to a bustling crowd of folks, with many art and skateboarding enthusiasts among them.
It was a real pleasure to do this for Ben as it not only gave Ben a platform, but also promoted our main objective and purpose of promoting grassroots art and artists, skateboarding and skaters. 
Here's what Ben had to say about the pieces we displayed:
"I was inspired to make the work because I'm a skateboarder, a painter and a sculptor who is currently experimenting with collage, appropriation/appreciation and photography.
When my practice is inspired by the latter elements, I find a skateboard is the best place to see these particular vision(s) come to life. I can easily source and produce all my materials locally and in a DIY fashion, painting and applying the graphics onto the boards from my art studio in Toronto. Making the boards themselves from scratch in Hamilton, ON via Andrew who works out of The Cotton Factory art studio and often presses in as small as one-off batches according to what board shapes I and the flow riders want to experiment with. The result is a professional quality skateboard with an extremely limited-edition graphic, produced in small considerate batches by the hand(s) of no more than two artists and skateboarders who really enjoy the process.
The content of the visual work: the collage, disparate images, juxtapositions and alignments of all sorts is very spontaneous and intuitive to me. It's old news that we are inundated with images in our world today. This means a lot of fodder for my practice: looking for visual dialogue between the images and the ensuing tone(s) that result is always a surprise. It's my version of the old saying that there are "two sides and then the truth." My work, as lots of visual art does, needs an audience, with all of its biases and subjectivity, to complete it and to make it function. The fact that my work is on a skateboard brings another applicable functional and interactive element to the work.
Ben's "Selfie Immolation" Solo Exhibition @She Said Gallery in Toronto – February 2023
In February of 2023, Ben had a solo exhibition at the She Said gallery in Toronto, and it was my duty to visit the show and see his work in person. Ben was generous to sell me a couple of the pieces with a discount as the boards were warped and unable to ride.  I was happy to help support him and didn't plan to ride them anyways – as they destined to be wall-pieces.
We reall loved this pair of decks so we purchased them both from Ben:
We really loved this piece below, so we bought it from Ben. 
For the summer of 2023, I asked Ben if he would be interested in painting on a blank skateboard deck for the purpose of showcasing at Toronto street festivals we will participate in. We also asked Ben if he'd be interested in releasing a small batch of skateboards produced by a skateboard manufacturer professionally. Ben has agreed to do both for this summer so stay tuned for more of Ben's art! 
Interview with Ben Wannamaker April, 2023
I had to learn more about Ben and what drives him to do what he does – being creative, skating and contributing to the art and skateboard scenes.

 

Here's what Ben had to say when we asked him the following questions:
1. Which interest came first, art or skateboarding – and how did the first one influence the second?
I would say skating came first because it was just always around. In the mid to late 90's all my friends skated and skateparks were starting to become more accessible. I was addicted to skateboard magazines and was travelling a lot in my younger days so always had a copy of Thrasher on me. I worked at a skate shop during my college days. I studied journalism and interned at Concrete Wave in 2004. This kicked off a career as an action sports writer which I still do today. In 2016 I released a fictional novel which was a four-year process ("Steal Away Golden Calf" 2016, 2021) and after which the idea of creating art by staring at words on a screen just didn't seem to excite me like it used to. Visual arts, gallery-going and art history seemed like such a pleasurable and dynamic break from that and the realization hit me like a meteor. I started my studio painting practice in 2016 and have had a studio in my home ever since.
2. Tell me about the birds depicted in your latest exhibit – what is their significance?
The pop up at She Said Gallery was the first chance I've had to conceptualize a large wall of skateboards so I wanted a theme to tie the majority of the 15+ boards together. This flock that traveled across the collection in two directions and from two perspectives did that. Also, when I first began making art it was doing stencil graffiti and a large portion of that work was the movement of many different kinds of birds as well. This tied many things together aesthetically from my past to my present practices while allowing each board to remain as its own standalone object.
3. Some of your work deals with darker themes like suicide, political unrest and sacrificial customs – What draws you to these themes? 
The language of visual arts and pictorial communication has been wildly altered by photography and the internet so the juxtapositions, tones and feeling of the photography I appropriate / manipulate and integrate into the graphics of CONTRAPPOSTO reflect that. Grabbing people's attention and prodding them convincingly to stop and think with an image or a collection of images is harder than it's ever been. This doesn't mean you have to be more hammer-fisted with your content but I think my approach to art is politically motivated and always has been. Artists have a responsibility to look and point at the world and today's world is gnarly. The quiet moments are gnarly too, not just the violent ones. The most violent moments are quite often the quietest in fact.
4. When someone looks at your art – what would you want them to take away as a lasting impression of what your work signifies?
Because of the DIY nature of the brand, how it's entirely run out of my studio / living room / imagination, I'd hope people walk away from seeing the boards with the inspiration to create a lasting impression in others and contribute to skateboarding themselves. If they internalize any of the morbid, funny, existential queries that the imagery presents than that's a bonus too! I'm terms of my painting practice the answer is likely very similar. Painting is my meditation so just the act of production is the reward. It's far more personal and selfish than the content of the board brand although it's all drawn from the same source. I'm sure there's lots of parallels people can draw between both practices but it all comes down to me not being limited creatively. The board brand opens up so many different options for me to present new ideas on that I couldn't on a canvas.
5. How was your skate brand Contrapposto Magnetics born, and what is the brand all about?
It all came from the name itself and the first graphic we did. The first board we did was titled 'Recess' and it was an image of a clown on break in a fancy chair. I printed the image in black and white, did some collage and also hand painted the printed image before re scanning and making it the first graphic.
Contrapposto is a style of gesture in the world of sculpture which defines an asymmetrical split between the shoulders and hips as well as rest on one leg and tension on another. I think philosophically, pictorially and poetically the idea of balance is very intriguing and this struck a chord with me. All with this one word and concept.  I've always liked tricks in action sports where the hips and shoulders almost seem independent from one another but move with cohesion. They photograph and feel the best too. And it's a way to promote art history to young skate rats too. And it's a great metaphor. The list goes on.
6. Some of your shapes are custom-designed and manufactured – What was the impetus behind doing this, and how has it worked out?
I always want to support local skate shops and skaters first so the majority of boards are manufactured by Control and bought via local skate shops in Toronto or the GTA. We also have a company that does small batch pressing locally and we can completely customize each aspect of each board but the turnaround is just quite obviously longer and more expensive. It's just nice to know that if people want something particular, we have options. Because we are so small we can be lighter on our feet. I like to have a wide catalog of shapes on hand so if people have something in particular they are after they can just pick a graphic off of the Instagram feed and we are off to the races.
7. How has art and skateboarding affected your life?
Wow! Immeasurably. It's why so many people are so compelled to give back to both so fiercely as they enrich so many people's lives with so much. They will change your life every time you do either. They're powerful, accessible and you just need your imagination to get you started.
__________________
Where to find Ben's work and products

@eatwithagun
@contrappostomagnetics

Stay tuned for a limited edition Art on Deck x Ben Wannamaker release in 2023!  
---