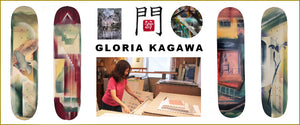 Gloria Kagawa
"Dwelling" by Gloria Kagawa x Art on Deck Collaboration
Gloria Kagawa- Artist Profile*


Gloria Kagawa is an established Japanese American/Canadian printmaker, painter and mixed media artist who has exhibited in numerous solo and group exhibitions across North and South America, Europe and Asia. Her professional art practice began in 1982 after earning an Honours B.A. in Fine Arts at the University of Waterloo. Kagawa's works are in public, private and corporate collections across the world. Locally her work is part of Kitchener, Ontario's Kilometre of Culture Public Art Collection and is on display at Kitchener City Hall. Her work has earned her several awards, including the Waterloo Region Arts Award in Visual Arts. In 2018 she produced her 35-Year Retrospective Exhibition for the JCCC Gallery at the Japanese Canadian Cultural Centre in Toronto. Kagawa lives and works at her rural farmhouse studio near Stratford, Ontario.
*republished with the artist's permission from gloriakagawa.com
.
__________________
Art on Deck (AOD) x Gloria Kagawa Collaboration:  "Dwelling"

Production:
Working with a Canadian Manufacturer, out of the province of Quebec, we were able to produce our first limited edition collaboration skateboard deck designs.  We decided to work with two artists and release two designs, one of which is the "Dwelling" print by Gloria Kagawa in a limited run of 48pcs. 
.
Artist Statement:

"Dwelling tells a story about the shelters that people live or 'dwell' in. I like exploring the human condition by depicting architectural structures we build that shelter, but also represent our lives, our stories, and our lived experiences. 
While studying art in school (University of Waterloo), I had an interest in prehistoric art and dwellings.  My studies led me and inspired me to create a series of works called the Primitive Series.  Part of an original work from this series, called Dwelling, was taken/used for this Skateboard ... When I see this part of dwelling presented horizontally on a skateboard, the dwelling depicted appears to be made with manual labor by people and with materials from the earth, not by machines or using synthetic materials.  The scene is about our drive to thrive and survive on earth throughout time and space."
.
AOD Commentary:
Gloria Kagawa is my mother, and a primary driving force behind Art on Deck - to help promote her and other artists' work within the context of skateboarding (using decks as a powerful and symbolic medium).  Several years earlier she had painted 3 original skateboard decks for display:  "Awesome Blossom", "Flying High" and "Pyramid".  These 3 boards were on display at the Japanese Canadian Cultural Center in her solo exhibition, where they garnered a lot of positive attention and interest- in short people really loved them as part of the show!  Art on Deck acquired them for our personal collection, and they are currently on display in Gloria's art studio.  
Our goal was to produce a limited edition professionally manufactured skateboard, one that we could release to the market to help promote her work.  The first step was to choose a design from her vast archive of artwork spanning across decades.   We looked at some of her art together and she gave me the opportunity to choose one that I liked, which ended up being a section of a piece entitled Dwelling.  The problem was, this piece had already been sold, and the digital photograph she had wasn't clear enough to be printed.  Fortunately, we knew how to reach the owner of the original print who agreed to lend it to us to photograph. 

Once we had the piece available for photographing, we had to decide which section of the larger image would look good on the smaller sized shape of a skateboard.   Not only did my mom allow me to choose the piece of work, but also the section that would be used for the final design - so I chose the section of the image which, to me, signified aspects of a 'dwelling'.   Elements that drew me to choose that particular section for the design included the ladder-like object which reminded me of an apartment building fire-escape, the series of squares reminiscent of apartment building windows, and the center purple section which looks like the inside of a small, yet cozy apartment with a table in the center. The darker and bold reds, blues, purples elicit the feeling of the warmth and comfort of home, but also remind us of the absence of space and light in crowded and densely populated dwellings.  The token yellow section of the image represents the minimal amount of space and light that some urban dwellings are afforded - like the tiny balconies in apartments, or windows that only let in a bit of sunlight due to adjacent buildings in the way.     

People ask why I chose this piece to represent my mom's art as a first official skateboard release - even my mom wonders why I chose a piece that's darker and less cheerful than a lot of her other pieces.  It's not about what other people think - I chose it because it represents an accurate reflection of what a 'dwelling' can and often is like.  So many people in the world live in densely populated buildings and apartments, which may have the creature comforts of home, but are far from luxurious.  I enjoy the dark elements of this piece, especially how the deep reds and blues work together symbiotically to depict a balance between warmth and cold.

On October 28, 2022, Gloria Kagawa is celebrating her 75th birthday and 40 years as a professional artist.  To commemorate this amazing achievement, I'm proud to officially announce the release of this limited-edition skateboard as a standalone deck, or as a complete skateboard setup. 

We are also releasing a run of 'Artist Working Proof' skateboard decks featuring an earlier prototype of the Dwelling design which came out in softer, more muted colors when we did the first run.  
See below how to get one!

Summerfest 2022 Featured Artist
I was very proud to showcase the "Dwelling" design and promote Gloria's (my mom's) creativity at Summerfest 2022, an annual festival which takes place in the Fairbank Village community of Eglinton Ave. West in Toronto Ontario, Canada. Gloria was able to attend the event and thoroughly enjoyed the opportunity to show her work, and to meet and talk with the locals in my neighborhood.  It was truly amazing and special to have her there.
Product Availability
As of October 2022, the "Dwelling" design and the "Dwelling Artist Working Proof" is available in our online shop at artondeck.com, and on Canada's Loblaw Marketplace either as a standalone deck, or as an assembled or unassembled complete
__________________
---