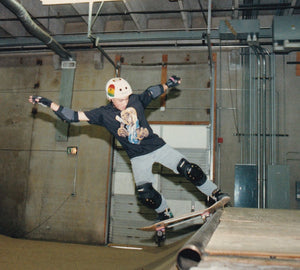 1991 - Skatepark and Art Gallery Tour - USA
It was the summer of 1991 - My parents and I set out on a drive from rural south-western Ontario to Denver Colorado, USA . The three of us, driving across the United States with my dad at the wheel of a 4-door Mercury Topaz (the sister version of the popular Ford Tempo back then), my mom the artist in the passenger seat, and me, crammed into the backseat along side our luggage and a sandwich-stuffed Koolatron that ran off the cigarette lighter.  The trunk was packed with artwork, and of course my complete Powell Peralta Steve Caballero Mask model skateboard with Independent trucks and Santa Cruz Bullet Wheels, and a full set of Protec safety pads.
Parked outside of Eat Concrete Skatepark - Omaha, Nebraska - Summer of 1991
The trip was for both business and personal reasons.  On the business side, my parents mapped out a plan to visit several art galleries in various US cities to generate interest in my mom's work and maybe land some gallery partnerships.  I went along for the ride with the support of my parents who agreed to include visits to skate parks along our route.  We set out for what was going to be a once-in-a-lifetime adventure!  Our vacation destination was Denver, Colorado to meet family and friends.
---