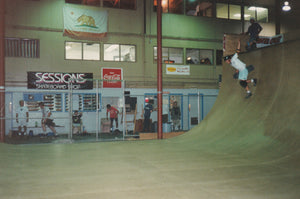 1991 Skatepark Tour - BJ's Skatepark / Sessions Shop, Wichita KS
 We headed west again towards Colorado where we would meet up with family.  Wichita was the next major city on our stop, and we came across a skatepark called BJ's with a shop attached to it called Sessions.  The shop had all kinds of old school skate gear and a full indoor park area. 
The park was well made and full of options. The riding surfaces were smooth, and it was not very busy, which made it easy to practice without bumping into other skaters.  Unfortunately, we were just passing through so didn't have much time to stay and skate for very long. 
---