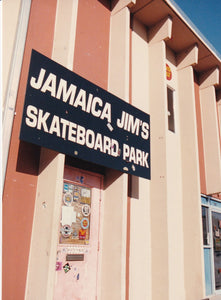 1991 - Skatepark Tour - Jamaica Jim's, Denver CO
 After Kansas was our the furthest west we'd be traveling - to Denver Colorado.   We were actually staying in Denver for a vacation, so this was the perfect opportunity for me to check out all the local skate spots throughout the city.   Jamaica Jim's was an amazing skateboard park with a large indoor space filled with ramps and transitions.

There was an indoor bowl, which was quite popular with the locals.
I was definitely interested in getting familiar with riding a bowl as the opportunity didn't come up too often.  Shown below with my New Deal Danny Sargent t-shirt, Protec pads and 540 Prototype Airwalks.
They had some larger ramps with walkways underneath so you could get to other parts of the skatepark.  It was creative, and a good use of the space.
There was a broken-skateboard wall with a basketball net, which I thought was a pretty creative use of the space as well as the broken boards.  Looking at this wall there are some real classics:  an H-Street Matt Hensley King Size, a New Deal Danny Sargent Tagger, a Dune Pastras, and what looks like might be a Natas Devil Worship deck.
Under the ramps were walkways where you could access different parts of the skate park.
 You could skate from the bowl and transition into the half-pipe, and a lot of the ramps were connected in some way which gave it a nice flow, and it also added an element of challenge. 
 Down at floor level looking up at the bowl:
 My favorite place to practice though was the 4' mini-ramp. It was so incredibly wide and smooth, and I spent many hours on this particular ramp. Fortunately I had Santa Cruz Bullet 98a wheels which were perfect for this ramp.
 The best part was how it was actually two ramps! There was another one directly behind it with a transition connecting the two.  There was this younger kid who was really good, and would fly over the transition with ease. I wonder if he ever went pro?
I was just learning dropping in, tail stalls and basic tricks. I didn't have access to facilities like this back home.  The more time I spent there, the better I got, and I really enjoyed how big it was and easy to share with the other skaters and bmxer's.
They also had an outdoor area, with some partially built launches, quarter pipes, and street features, but the terrain was so rough that I didn't spend much time out there. It really did need to be repaved.
Regardless of the outdoor park being less than desirable, the indoor park more than made up for anything that was lacking outside.  It was a truly memorable place to skate and I'll never forget how much fun I had at Jamaica Jim's.  The only reference I could find online about Jamaica Jim's comes from westword.com - a Denver online magazine journal which described it as being the best skatepark in Denver in 1991. 
---