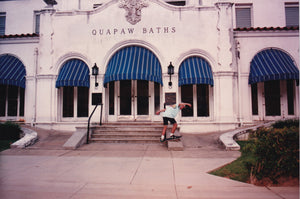 1991 Skatepark Tour - Kanis Park Rd Bowl - Hot Springs AR
 After Alabama, we headed west towards our next stop, Little Rock Arkansas.   My mom wanted to visit the Hot Springs, and I was of course looking forward to whatever skate spot I could find.  Luckily we found a public skatepark with a Bowl and a small street area.   It was located on Kanis Park Rd. 
Without delay, I got to work skating the Kanis Park Rd. Bowl. 
After i'd had enough of the bowl, I figured i'd try some rail-slides and grinds in the street area they had set up.   There was a super long waxed curb which made it really easy
Then it was getting dark, and we had to leave the park, so I skated around a bit near the Quapaw baths building - which I think may even still be there today. 
I couldn't get enough skating in at the Kanis Park Rd. Bowl, so I decided to practice some more outside on the sidewalk.  
Little Rock Arkansas was a very pleasant place to visit.  From the Hot Springs, to the free skatepark, it was a memorable time and it's definitely a place I would love to visit (and skate) again.
---