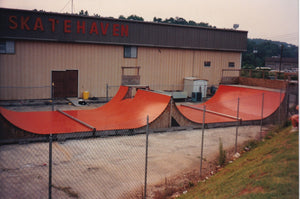 1991 Skatepark Tour - Skatehaven, Birmingham AL
Around 4 hours south, by car, our next destination after Nashville was Birmingham, Alabama.  We arrived in the evening and found a skatepark called SkateHaven. Unfortunately it was near closing time and most of the park was already closed off.  
I would have loved to skate the mini-ramps, but they were barred off, and so I decided to hang out and watch the vert skaters who were catching air on the vert ramp. 
Vert was not for me, I was content just watching these guys. 
...and my father was content checking out the underside of the ramps to look at the construction framing and bracing work. 
Needless to say SkateHaven was a sight-seeing exercise, and despite not getting to ride any of the ramps, at least we got to hang out there for a bit. 
---