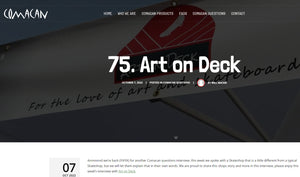 Comacan Interview - October 07, 2022
Comacan Skateboards Interview with Art on Deck (AOD)

A local Ontario skate brand
Comacan
, reached out to do an
interview
and I was more than happy and thankful to get the opportunity to share my story.  Here it is below:
Annnnnnd we're back (IYKYK) for another Comacan questions interview, this week we spoke with a Skateshop that is a little different from a typical Skateshop, but we will let them explain that in their own words. We are proud to share this shops story and more in this interview, please enjoy this week's interview with

 
Art on Deck
.
__________________
What inspired you to open a Skateshop?
My inspiration came from a love of skateboarding and equally from my mom, Gloria Kagawa, an artist, and printmaker from rural Ontario.  For years I was thinking about how to start a skateboard brand with her art, as I always thought her work would look great on skateboards. I grew up seeing her struggle financially as an artist, and wanted a way to help promote her work, so I thought of the possibility of a skate brand. I soon came to realize there were dozens of other brands already doing this, but not nearly as many skate shops in comparison. I felt if I could help promote my mom's artwork, I could do it for other artists as well. Being Canadian and proud of the national skate scene, I also wanted to have a focus on Canadian, artist-led or art-themed, and lesser-known independent brands to help promote the Canadian skate scene.
I had the opportunity to work with a few artists so far to release skateboards with unique art in limited runs.  In 2022, we released a limited production deck called "Dwelling" featuring a section of one of my mom's original prints, and a second release with a digital design titled "Mandala" by a Stratford, Ontario artist, Sandy Richter. I'm also working with artists who already design or are interested in making original one-of-a-kind artwork on skateboard decks. Discovering new art, meeting the artists, and learning about their work brings a positive sense of fulfillment and connection to the art world – something I didn't expect or plan for, but came as a pleasant surprise.
Attitudes towards and perceptions of skateboarding have been shifting to become more inclusive, more mainstream, more accepted, respected, and revered.  I believe that there's no one group of people who can claim their right to skateboarding – it is for anyone and everyone to enjoy and appreciate. I've spent my life appreciating skateboarding more and more and watching it become an increasingly inclusive sport for any age, any gender, and any skill level.  For me this is super exciting, because while growing up I was often judged and looked down upon for being a skateboarder, and seeing it become more accepted and embraced by society makes me really happy for people who are getting into it for the first time.
As an adult skateboarder, I have a desire to share my skateboarding knowledge and experience with people of all ages and all walks of life, especially in the west end of Toronto where there aren't many local skate shops.  Skateboarding is going through a transformative shift, being added to the Olympics recently, and growing in popularity across many demographics. I really wanted to be part of this renaissance wave of skateboarding and starting an online store for me is a precursor to my eventual ambition of opening a physical retail store where I can showcase amazing art and skateboard designs from across Canada.
Why did you choose the name art on deck?
Art and skateboarding are so synonymous, and you hear about artist collaborations all the time when it comes to skateboard releases.  My mom who is an artist asked me "why would you put a nice picture on a skateboard if you are just going to damage it by skating it".   My reply was that a skateboard graphic or image doesn't have to be preserved physically to be appreciated.  The graphic from my first skateboard, and other skateboards that I owned and remember fondly – will be etched in my brain forever.  I remember art by Ed Templeton growing up, and the original Santa Cruz graphics from the 90's, and even though I skated them hard, those graphics live on in memory. I also mentioned they can be hung as art too using a skateboard wall-mount.
I chose the name Art on Deck as I thought it sounded descriptive because the focus is art on skateboard decks, and catchy as the term 'on deck' means something that is up-and-coming, or next-in-line.  I thought I had come up with a very original name until I searched online and discovered a book that had been published titled 'Art on Deck' showcasing Supreme skateboard graphics over the years.  Of course, I was disappointed finding out that someone had thought of this phrase before me, but when I checked the domain artondeck.com, it was available! Low and behold I grabbed the domain, and the rest is history.
When did you decide to open a shop?
I decided to take the leap and open an online shop at the start of 2021.  It was at the height of the Covid19 Pandemic when everyone was opening a Shopify store online.   I jumped on the Shopify bandwagon and did the same thing.  Amidst all the Shopify and e-commerce hype, I tempered my expectations for success and growth, knowing that an online store is only one piece of a much larger business puzzle.  I knew I had a lot of work to do, especially when it came to building business relationships, financing, and budgeting, finding suppliers and inventory, and learning about social media and marketing.
What makes art on deck special?
Art on Deck is really about bringing together and promoting independent brands, artists, and communities in the context of skateboarding.  Most skate shops carry more or less the same brands and products as they typically come from a handful of suppliers and distributors.  I felt like it would be interesting to focus on products that weren't widely available, ones that were more unique and independent, including craft and small batch products.  I wanted to seek out small up-and-coming brands and help represent them in a more organic way and so I found that sticking with smaller companies and working directly with independent brands would be a rewarding challenge.
Art has always been a huge part of my life – growing up we would often visit galleries and my mom would sometimes have exhibitions of her own.  My appreciation for art has only grown with age, and as she gets older, I wanted to find a way to connect with and share her art with more people – through something familiar to me, which is skateboarding.   I realized that with Art on Deck, the possibilities to connect with artists are limitless, and being able to meet, work and interact with other artists is another big reason why Art on Deck is special to me.
Where can people view available products?
At this time products are available via our Shopify e-commerce site artondeck.com, and our vendor booth at some festivals in Toronto during the summer months.  In 2022 we participated in Summerfest on Eglinton Ave. West, and the Taste of the Kingsway festival in September.   My store offers free shipping with a minimum $80 spend, and quick delivery within the Greater Toronto Area within 1-2 days. My eventual goal is to open physical gallery and skate shop in the west end of Toronto, where I can display in real life, the art and skateboard designs carried in my online shop.
What does skateboarding mean to you?
Skateboarding has always been a huge part of my life from the time when I was a teenager in the 90's, when my dad brought home a used Santa Cruz Jeff Grosso Acid Tongue skateboard with Independent Trucks and Santa Cruz Bullet 66 wheels.  A co-op student my dad was working with heard I was into skateboarding and decided to give me his Grosso skateboard since he was upgrading to a new one anyways.  Before then I was riding low quality department store Valterra and Dominion skateboards, so having a real pro complete was a dream come true!
As a teenager skateboarding offered me the freedom and independence to progress and challenge myself at my own pace, whenever I wanted.  Unlike organized team sports, my skateboard was always available, and I didn't have to rely on competing with anyone but myself to improve.   This meant I could do as much or as little as I wanted and take calculated risks as I progressed.   Being around friends who enjoyed skateboarding as much as me felt liberating, like I belonged.  It didn't matter if some were better at doing tricks than others – we all just wanted to hang out and have fun.
Skateboarding to me, means having the freedom to do what you want, but in a respectful way.  It means respecting property, resources, and people in public and private spaces. It means being an ambassador for the sport in a healthy and constructive way through positive and helpful actions and words.  It means standing up to ignorance from those who judge skateboarding negatively – but doing so in a tolerant and understanding way – one that recognizes all stereotypes can be broken through education and conversation.
What is your favorite part of owning a Skateshop?
There are so many things that come to mind – money is not one of them. My favorite part of owning a Skateshop is the human connection.  I love connecting with customers and seeing their happiness when they get a new skateboard. I also love meeting, collaborating, and working with business owners, artists, skateboarders, and anyone who shares an interest or passion for art, skateboarding or both!
How do you work with Canadian brands and artists?
The skateboarding industry is huge in the USA, and let's face it, most of the famous and well-known brands come from the USA – however Canada has a lot of amazing brands and I thought it would be great to showcase them together and help market them across my community, North America and Internationally. I think it's important for the world, and especially for Canadians, to be aware of the influential and impactful brands and artists from Canada. Ultimately, I want to help promote and support talented artists, and skate brand owners who make up the core fabric of Canadian skateboarding culture
I seek out brands and artist-led or artist-involved project leaders and creators through my family network, and via Instagram. I will ask them about wholesale agreements, and if there are any opportunities to carry and represent their brands and products. Not all of the companies I reach out to reply, but for the ones who do, I will order stock from them and carry as much as I can. Spending too much on stock and inventory without the sales to back it up however can be a dangerous proposition, so I have slowed down on purchasing lately to try and focus more on marketing, social media, and networking.
Anyone you'd like to thank?
A few people yes:
I'd like to thank Canadian skateboard brand Atlantic Aire, the first artist-led skateboard brand I contacted to request a supply agreement with.  As a stranger who had approached the owner out of the blue, he trusted me, gave me the opportunity to carry his brand, and in turn it gave me the confidence and motivation to reach out to more brand owners and suppliers. I'm just glad that he believed in my idea and was willing to partner with me when I was first starting out.
Julio De La Cruz is a professional skateboarder who owns the brand Neighborhood Skateboards.  I met I met Julio as a kid at skateboard camp – He was the only pro at the time who would hang out and chill with us kids. Neighborhood is brand I support and carry and I'm thankful to Julio for being that lifelong skater who genuinely cares about skateboarding and the kids like nobody else I know.
I would like to thank M.A.R.S Skateboards for their encouragement and genuine willingness to help, and for allowing me to carry M.A.R.S products in the Toronto region.
Frank, the owner of a long-running skateboard shop in Virginia called Strange House Skateshop.   I've been a customer for over 10 years and have to say it's my favorite American skate shop because he is the most reliable and trustworthy store owner, with a great product selection, pricing and shipping. I'm thankful for Frank for being the model example of how skate shop owners should be when it comes to customer service, honesty, and reliability.
I'd like to thank the owner of Cutts & Bows, another Canadian artist-led brand who I reached out to request a wholesale agreement with.   I'm thankful to the owner, not only for trusting me to carry his amazing brand Cutts & Bows, but also for his helpful advice about the skate industry.
.. and all of the other brands I'm working with to promote and encourage awareness around.
__________________
---