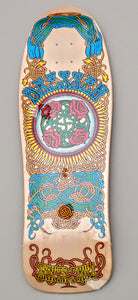 Why Skateboarding?
It was right around 1990, just graduating from elementary school when I first got into skateboarding.  I had a few friends in the city who I would hang out with after school at the library.  My first complete skateboard was a freebie, given to me by a friend – a department store Variflex skateboard with extremely heavy trucks, fat wheels and bearings that sounded like they had sand in them every time you rolled, but it was still a slight step up from the Dominion Street board my brother was riding.  My friends in grade 8 were lucky to have parents who could afford to get them the latest Powell Peralta and Santa Cruz skateboards, but my family didn't have that kind of money to spend on a new skateboard.   My dad was working at the University at the time, and one of the students he met there happened to be into skateboarding and heard about my situation with the Variflex.  He happened to be riding a complete pro skateboard, but when he heard about my situation, he decided to give it to my dad to give to me!   The thrill of getting a complete pro board at that age was like nothing else - - and to boot it was a gently used Santa Cruz, Jeff Grosso Acid Tongue deck, complete with Independent Trucks, Santa Cruz Bullet 66 wheels, and NMB Bearings (which were some of the most popular bearings in the industry at the time).  It rode like a dream compared to the Variflex, and was the impetus which catapulted me into a lifelong connection and passion for skateboarding.
In secondary school, skateboarding gave me something I could connect and relate to without the pressures of having to join a sports team.  The idea of team sports, with regularly scheduled practices, and all the rules that came with it, didn't appeal to me.  Skateboarding gave me the freedom to practice and learn at my own pace, without any outside pressures to perform or achieve a certain status or level.  I could fully control how much effort and time I wanted to put into skateboarding, to be able to set my own realistic and achievable goals, without anybody to answer to, except myself.   It was also a way to connect and bond with other like-minded friends who, similarly, had discovered the liberating and exhilarating nature of the sport.  Even my brothers got into it with their first pro models being the Eric Dressen Celtic Rose, and a Tracker Street Cleaner. 
20 years later, skateboarding continues to give me a sense of purpose and fulfillment, and it's a pleasure to witness its continued growth and appreciation globally, as time rolls on. 
---